We purchase, restore and sell classic cars and welcome commission sales and classic sourcing.
While it is our preference not to acquire total restoration projects for onward sale we will consider vehicles that require some welding and paint including panel, wing or sill replacements.
Mechanical overhauls including engine removal, strip down and rebuild are all carried out in our workshop.
Customer cars welcome.
Who we are
Ross Blyth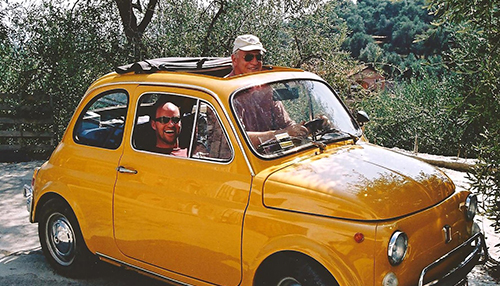 Ross has been restoring bikes and motorcars since he was 14 and rode around the local streets in Liguria, Italy in a 1960s Benelli moped which was always breaking down in the summer heat.
Since then he used a Fiat 850 Sport Coupe for night navigational rallies while a student at Edinburgh University which chewed through head gaskets like they were going out of fashion, restored an 850 Mini for an early girlfriend and totally rebuilt an MG Midget 1275 after seeing what they could do at an autotest.
A TR6 owner for over 25 years, he added to his classic car collection in 2000 by buying a 1994 Lancia Delta Integrale Evo 2 followed not so swiftly in 2004 by a Fiat 500 from 1972 which he and his wife drove back from Italy (well as far as Epernay which is the centre of the champagne region in France where burnt out valves brought an end to that particular adventure).
After 40 years of tinkering with motorcars and motorbikes while pursuing a career in Law, Ross decided in 2013 it was time to turn his passion into a bit of a reality so he teamed up with Chris to buy and restore classic cars. They tackle bodywork and mechanical work but out source all paintwork and coach trimming. Ground up restorations tend to be avoided simply due to turn around times in a small workshop but specific commissions can be considered.
And his favourite classic on the all time wishlist? Easy he says, a Lancia Aurelia B20 GT Coupe from 1954 – just gorgeous from every angle and a great drivers' car.
Chris Tiso
Chris has loved cars for as long as he can remember. Initially he had to content himself with corgi models – early interests included the white XJS of the Saint and of course a certain Secret Agents DB5 and DBS.
Over the years he has scratched a variety of itches including a Bentley Turbo R and a Porsche 928 GTS. Today there are three 'keepers' in the garage – a 1988 Lancia Delta Integrale 8v which has been fully restored in his ownership (he reckons it's now better than new thanks to the cheap Eastern European steel favoured by Italian marques in the '80's being mostly replaced!), a rare 1986 Aston Martin V8 EFi series 5 and an Alfa Romeo GTV 3.0 Cup – an eclectic mix which are all reguarly used and enjoyed.
His most memorable road trip to date was a week long blast across the Alps in the Aston with his son.
An enthusiastic follower of the market, today he enjoys sharing his passion for classic cars by helping restore projects and source cars for clients.
And his dream classic? A Bentley Blower – noise, performance, presence and a real sense of occasion. A triumph of British design and engineering.